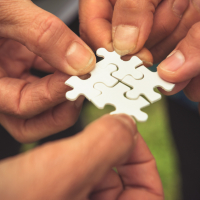 Cochrane Sweden recently held a webinar on registration and reporting of clinical trials in collaboration with our host institution, Lund University.
Clinical trial transparency is a key advocacy topic for Cochrane and Cochrane Sweden, and the webinar was a continuation of the efforts to promote this issue. At the end of 2020, we launched a joint report with TranspariMED which highlighted shortcomings in clinical trial reporting in Sweden – finding that over 70% of verifiably due clinical trial results are missing.
Mixing both regional and national perspectives, the webinar aimed to be relevant both within and outside of the context of Sweden. Presentations covered topics including current trial transparency regulations and best practices for improving reporting at universities. Examples were also shared from Karolinska Institutet and Clinical Studies Sweden, who have both taken steps to improve the reporting of their trials. Participants then had the opportunity to ask panelists their questions in an extended Q&A session.
We want to thank the Faculty of Medicine at Lund University, and especially Heiko Herwald (vice-dean) for supporting Cochrane Sweden in making this webinar possible. We also want to thank our speakers Shai Mulinari (Lund University), Till Bruckner (TranspariMED), Tony Durkee (Karolinska Institute) and Maria Skoog (Kliniska Studier Syd). In addition, we want to thank Emma Thompson (Cochrane's Advocacy and Partnership Officer) for moderating the event. 
You can watch the full webinar below, or check out specific lectures by going to the specific time-slots below. 
If you are interested in learning more about this work and how you can support or expand the reach, please contact us. 
7:32 We have come a long way: Data Transparency and Pharmaceutical Regulation Europe  (Slides)
Shai Mulinari, Dept Sociology, Lund University
26:48 Getting all clinical trial results reported - lessons learnt from successful universities (Slides and QUEST manual for clinical trial reporting)
Till Bruckner, author of a clinical trial reporting manual for universities. He is a Research Fellow at the BIH QUEST Center and the founder of the TranspariMED campaign
47:10 Centralizing the Clinical Trial Registration and Results Reporting Process in Academic Institutions (Slides)
Tony Durkee, Lead Coordinator for Clinical Trials at the Compliance and Data Office (CDO) at Karolinska Institutet
1:06:09 Clinical Trial Registering and Reporting (Slides)
Maria Skoog, Clinical trial manager, Clinical Studies Sweden - Forum South
1:16:03 Panel Discussion and Q&A