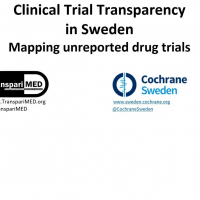 Clinical Trial Transparency Report: Results are missing for over 200 drug trials involving Swedish patients
During 2020 TranspariMED, in collaboration with Cochrane Sweden, have collected and summarized data on the extent of clinical drug trial reporting for different organizations in Sweden. This follows the call from Cochrane and other organizations, such as Health Action International, AllTrials, WHO and Transparency International  and is in line with the aim of Cochrane advocacy activities at the level of EU parliament (see article) and the European Medicines Agency (see article) and down to local levels at organizations within Sweden (see article). The resulting report mapping non-reporting of clinical drug trials within Sweden has now been published. 
Karla Soares-Weiser, Cochrane Editor in Chief, has said of this issue: "Cochrane strongly supports the reporting of results from all clinical trials. Failure to report findings and the selective sharing of results stop us from getting a full view of the evidence for our systematic reviews – so the benefits of an intervention could be exaggerated, or the harms underestimated. This severely undermines the ability to make truly evidence-informed decisions about healthcare."
Matteo Bruschettini, Director of Cochrane Sweden, says: "Cochrane Sweden, which was awarded full independent center status in 2020, promotes initiatives to improve the reporting of all studies. Our hope is that this report and the linked implications and recommendations can help to facilitate improved reporting of clinical trials within Sweden. We share the goal to get more complete and accurate evidence on which to make informed health decisions within healthcare, and better health for everyone."
Till Bruckner, founder of TranspariMED, said: "Clinical trials whose results remain invisible are a waste of money, a betrayal of the trust of the volunteers who participated in these trials, and a threat to public health. The pledges by leading universities to embrace transparency are good news for taxpayers and patients. Läkemedelsverkets should urgently reach out to trial sponsors and assist them in making their clinical trial results public as rapidly as possible, before results are lost forever and become research waste."
Below we publish the "Key Findings and Recommendations" from the report, but we urge you to read the full report for a more nuanced and complete picture of the current state of non-reported clinical drug trials conducted within Sweden. Results are also available in the report on an organizational level.
KEY FINDINGS AND RECOMMENDATIONS
Failure to report clinical trial results has substantial negative consequences for patients and public health. 
European Union (EU) rules adopted in July 2014 require the sponsors (organisations that conduct a trial) of each clinical trial registered on the EU Clinical Trials Register to post those trials' summary results to the registry within 12 months of trial completion (6 months for paediatric trials). These rules also apply to trials completed before 2014 and apply irrespective of whether a trial's outcomes have been published in the academic literature. Thus, all of the clinical trials identified in this report as missing summary results are not following European Union transparency rules that were designed to protect the interests of patients and taxpayers. 
Key findings
Recommendations
You can access the full report from TranspariMed website.
Resources for improving clinical trial reporting:
Cochrane's initiatives and policies for trial transparency:
Contact at Cochrane Sweden:
Matteo Bruschettini, tel. 0769307828, matteo.bruschettini@med.lu.se