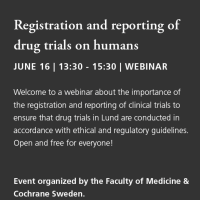 Welcome to a webinar about the importance of registration and reporting of clinical trials to ensure that drug trials are conducted in accordance with ethical and regulatory guidelines on June 16th 13.30-15.30 (Swedish time). 
It is open and free for everyone and will be delivered as a Zoom Webinar!
The event is organized by Cochrane Sweden and the Faculty of Medicine at Lund University. 
You can sign up and read more about the event here: https://www.medicin.lu.se/evenemang/registration-and-reporting-drug-trials-humans
The webinar is a response to the report published by TranspariMed and Cochrane Sweden in December 2020 mapping the extent of unreported clinical trials initiated by Swedish organizations. You can read more about this in a previous news segment or read the full report from TranspariMed. 
Karla Soares-Weiser, Cochrane Editor in Chief, has said of this issue: "Cochrane strongly supports the reporting of results from all clinical trials. Failure to report findings and the selective sharing of results stop us from getting a full view of the evidence for our systematic reviews – so the benefits of an intervention could be exaggerated, or the harms underestimated. This severely undermines the ability to make truly evidence-informed decisions about healthcare."